Acme apart-hotel on Nevsky prospect, 78
The apart-hotel is situated on the 5th floor of a five-storey building (without an elevator), featuring a fascinating view on Nevsky and Liteiny prospects, «Radisson Sas» hotel, «Premier» casino and «Palkin» restaurant. The closest metro stations are Mayakovskaya, Gostiny Dvor, Vladimirskaya \ Dostoevskaya. Entrance to the hotel is from Liteiny prospect. Windows are facing Liteiny prospect and the backyard.
Location of apart-hotel in details
.

The newly refurbished 3-star establishment directly on the corner of Liteiny and Nevsky prospects offers you 11 rooms at great rates on one floor available for short-term and long-term accommodation, including:
Each room features all modern conveniences - double or twin beds, a wardrobe, a table with chairs, LCD TV-set with 8 satellite channels, 220v electric current, direct dial telephone, WI-FI internet connection, a stereo system. En-suite bathroom facilities include shower cubicle, washbasin, toilet, hair-dryer, big mirror. A fully-equipped kitchen area features a cooker, a microwave, a fridge, an electric kettle, a sink, china and cutlery. Ironing facilities are provided upon request. Bed linen and towels are provided. Some of the rooms are air-conditioned.
Apart-hotel is a strictly non-smoking establishment.

With gratitude to our colleagues, we are proud to present a Virtual tour of Apart-hotel Nevsky, 78.


Please, note –
breakfast and daily maid services are not included in price. Your room will be cleaned after your departure and once in 3 days the maid will empty the rubbish bin and change towels&linen.

Please note that check-in office is situated on Karavannaya Street 7, where guests can collect their keys.
Guests arriving after 21:00 should contact the hotel at least 1 day in advance to arrange check-in. Contact details can be found on the reservation confirmation.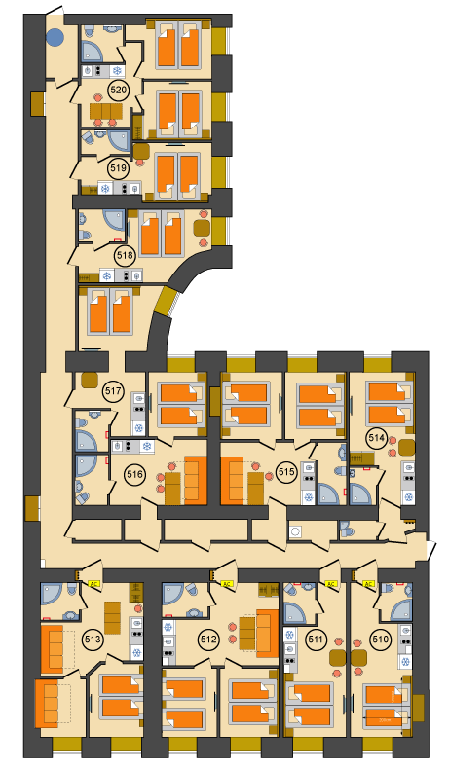 There are 11 rooms of the following types: 7 "Studios" (14 sq.m.) - 510, 511, 514, 516, 517, 518, 519; 4 "2-room apartments" (28 sq.m.) - 512, 513, 515, 520.

Call us at:
+7 812
600-20-80
& +7 911
008-00-99
Russia toll-free
8-800-333-20-80